Förbeställning av produkter på IOAKU.COM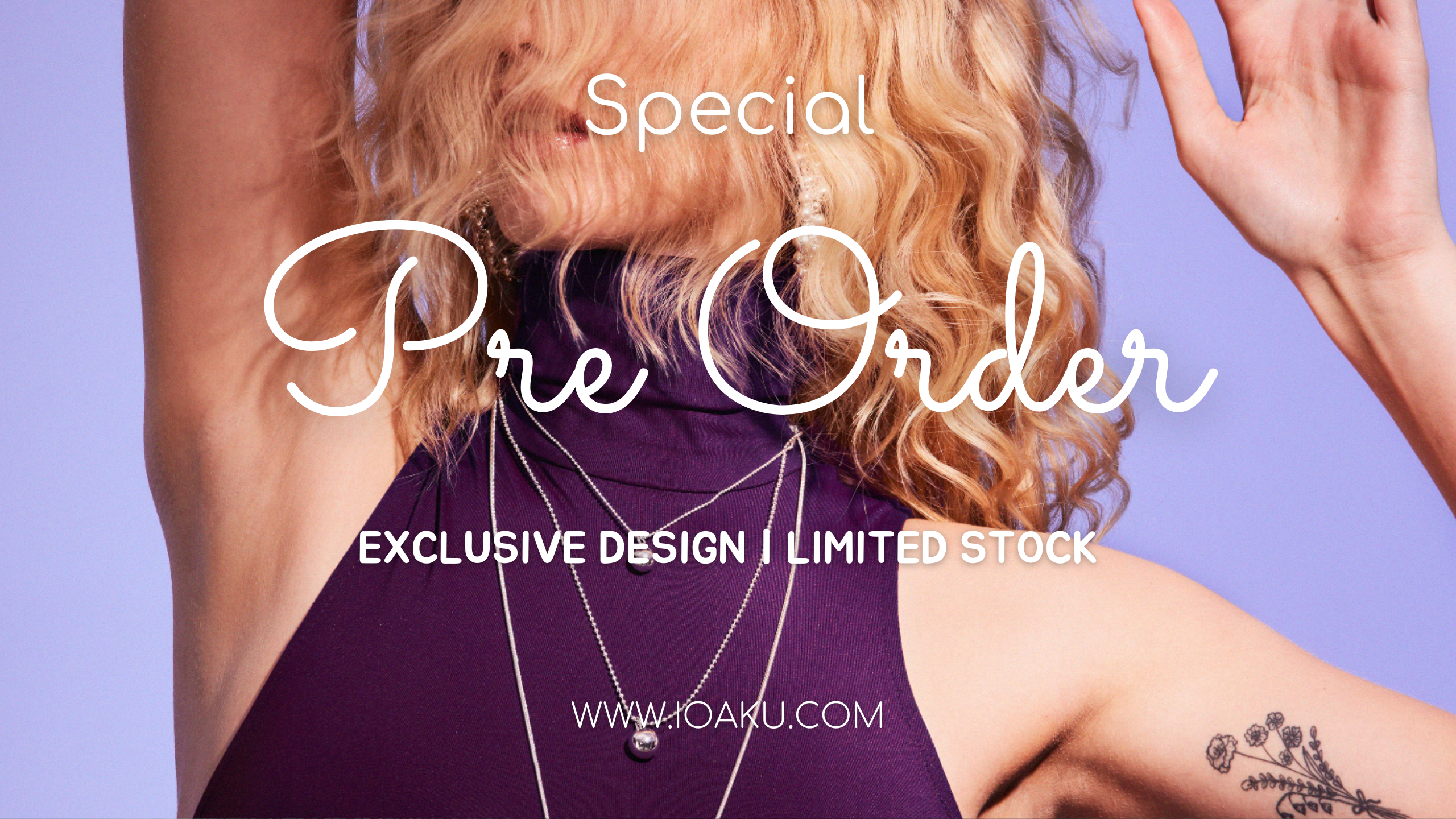 Pre-order at IOAKU.COM
Christmas calendar & Advent calendar 2023
EXCEPTION! Your right to return or exchange does not apply for this purchase because all our calendars are specially designed for each customer's wishes of metal and calendar.
Limited quantity, first come, first served!
Payment takes place directly upon pre-order/purchase, either via Klarna or a debit card.
Expected to be sent out during week 47 2023 at the earliest
Ordinary Products as a pre-order
Your right to return or exchange always applies to all our other pre-order products from the regular IOAKU collections.
You can cancel your pre-order at any time before delivery. Also, you have a 14-day right of return with a refund according to law.
We also offer you the exclusive right to exchange for another product/gift card within 30 days.
Everything about pre-ordering at IOAKU.COM
What is a pre-order?

Are you ready to experience the thrill of being among the first to receive our latest jewelry and accessories?

Then you are in the right place! At IOAKU, we offer pre-orders that give you priority for our most sought-after products, but we also want to make sure you are fully informed about what it means to pre-order with us.
I'm not sure if I should pre-order, what are the pros and cons?

The advantage of placing a pre-order is that you ensure that you receive the product in this delivery that arrives so it has not had time to sell out before it is in stock. We are so incredibly honored and proud to have the opportunity to produce exactly what you want. Thank you for supporting both us and the environment!

The disadvantage is a longer delivery time. IOAKU always has fast deliveries, but unfortunately, this is not possible with a pre-order. It is a longer delivery time because the product will be specifically handmade for you and this takes time as it needs to be created, produced, and delivered by our craftsmen. There are many stages that are outside our control such as quality control, as well as what happens in the outside world, which can extend the delivery time. However, those who wait for something good never wait for long!
How does the delivery time work?

When choosing to purchase a pre-order, it is important to know the delivery time.

We always aim to deliver as quickly as possible, and the expected delivery time for your specific product can be found on the product page.

Keep in mind that the delivery time can vary depending on the product and IOAKU has the right to be able to adjust/shorten/extend the delivery time based on any circumstances that may occur in a production. Anyone who has an order of pre-order products accepts IOAKU's right to make changes to the delivery time by placing the order on IOAKU.COM
Which payment options can I choose from?

We accept several payment options for your convenience. When you place a pre-order on IOAKU.COM, you agree that you are aware of delayed delivery. You can choose among other things:

Credit or Debit card
Paypal
Klarna
Klarna invoice

Please note that if you choose to pay with Klarna, the payment will be processed when the product is ready to be shipped. It gives you peace of mind that you don't have to pay too far in advance.

Note, however, that Klarna has an individual invoice policy that can vary from person to person. If you haven't received your pre-order yet and you want to extend your deadline for the invoice, you have to do it yourself by contacting Klarna's customer service to adjust it.
No obligation & Free Cancellation of pre-orders!

Don't worry - We understand that you can regret a purchase of a pre-order!

Therefore, we offer you the option to cancel your pre-order at any time before delivery. We want you to be 100% satisfied with your purchase from us. You cancel your order by contacting customer service about your order at any time.

However, if you decide to cancel, we cannot promise that products will be available or remain in stock upon product delivery in our store.
I have bought a pre-order as a gift, what do I do?

Fantastically, how fun that you have bought a pre-order product as a gift. Your special person gets to be a part of an exclusive product that is extremely unique and popular. If the pre-order does not arrive within your desired time frame, contact us and we will make a nice gift package for you!
How can I get updates on my order?

You can always keep up to date with IOAKU. WE offer the possibility to track your delivery via PostNord or the status of your order via the online chat in the lower right corner of our website.

Once you have placed a pre-order:

You will first receive an order confirmation where you can see an overview of your order and the possibility to track it.

You will then also receive an external email from Postnord/DHL/UPS with your tracking number within 24 hours. However, this does not mean that it is ready for delivery, it is implemented to keep you updated with your order and delivery once we send it out to you.
How do I contact you regarding my pre-order?

If you ever have questions, concerns or just want to talk jewelry and accessories, our customer service is available via website chat or phone during our business hours as well as via email 24/7.

We are here to make your shopping experience as smooth and joyful as possible!

We look forward to giving you the very best in Swedish design. Welcome to IOAKU - where the wait is as wonderful as wearing our fantastic jewelry and accessories!